Staff
DIRECTORS OF SPELTHORNE GYMNASTICS
Bob Cooper
Alison Cooper
David Rigney
Virginia Lara
Mary Crocker
PRINCIPAL COACHES AND COORDINATORS

BOB AND ALISON COOPER
Bob & Alison have over 20 years' coaching experience and are well known and respected throughout the world of Acrobatics. They have worked for British Gymnastics as National Tumbling and Acrobatic Coaches taking teams to World and European Championships and have produced many Senior & Junior World Champions for Spelthorne and Great Britain.
They hold 5 National titles each (Bob in Mixed Pairs and Alison in Women's Pairs) and as former gymnasts won medals at World and European Championships. Both Bob & Alison are International Performance Coaches and are holders of the British Gymnastics Master of Sport and British Gymnastics Master Coach Awards.
FIG MANAGER AND HEAD COACH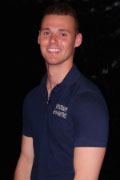 ADAM MCASSEY
Adam has over 13 years' coaching experience and has had numerous partnerships achieving World and European Championship medals. He is the current coach to the 2 times World and European Men's Group champions and current Senior bronze medalist from the 2016 World Championships. He was also coach to the Junior European Champions for both Men's Pair and Men's Group in 2013. Adam has been lucky enough to be selected as a gymnast from 2003 and then as a coach from 2013 to attend every European and World Championships.
As a former international gymnast in Men's Groups and Men's Pairs he became Junior World Champion in 2006, and was a World Senior bronze medalist in 2008 before becoming Senior World Champion in 2010. He also placed 2nd in the Senior World Championships in 2012 as a Men's Pair. Adam is 3 times Junior British Champion and 5 times Senior British Champion and was also one of the original members of Spelbound.
GENERAL MANAGER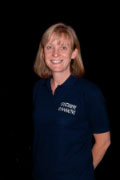 MELANIE GRAY
Melanie has been the welfare officer for the past 4 years and has qualifications in both safeguarding and child protection. She is a qualified primary school teacher and currently works full time at Spelthorne Gymnastics as the Public Relations and Welfare Manger. Melanie has been involved with the club for over 11 years supporting her son who is part of the Elite Acrobatic Squad.
IT MANAGER AND WELFARE OFFICER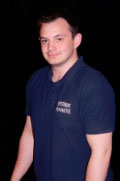 JAMES BEAUCHAMP
James has been coaching for over 10 years at various clubs in Surrey. He is a level 2 Tumbling Coach, and has experience teaching pre-school, adults, and special needs children. James teaches the Junior & Senior Advanced groups, as well as the prep tumbling squad. He also has qualifications in first aid and child protection.
OPERATIONS MANAGER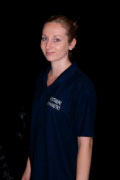 LEIGHANNE COWLER
Leighanne is the Operations Manager and also the Head Coach for NDP level gymnastics. She was a member of 'Spelbound' and has been training as a gymnast since she was 2 years old! She was the 2009 Junior British Champion in Women's Groups and was part of the Acrobatic Team representing Great Britain at the European Championships in October 2009 and the World Championships in July 2010. Leighanne began coaching as an assistant at the very young age of 12 and has gained experience working at many different Clubs. She is a Level 3 Coach in Acrobatics. She is also a Level 2 Coach in Pre-School Gymnastics and Cheerleading, and she has a First Diploma in Sport and Exercise Science.
CHOREOGRAPHY AND DANCE MANAGER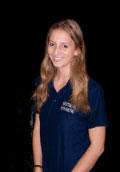 ELLIE COOPER
Ellie is the Head Choreographer for the Club. She is a former International performer in women's groups and women's pairs. She placed 2nd in the World Junior Acrobatics Championships in 2004 and 2006 and was British Junior Champion and British Schools Champion. Ellie trained in dance at Laines Theatre Arts in Epsom, Surrey and spent one year at the Orange County High School of the Arts in Los Angeles, California studying commercial dance. She was also a member of the Cheerleading and Dance Team at Capistrano Valley High School, Orange County, California and a member of 'Orange Crush' cheerleading team where she competed at the California State Championships at Universal Studios. She is a Level 3 Coach in Acrobatics and is also qualified to judge at regional level.
CLUB DEVELOPMENT MANAGER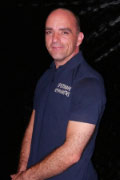 KERI LLEWELLYN
As a gymnast Keri trained in both Tumbling and in Acrobatic Gymnastics as a base of a mixed pair, becoming British Junior Champion in both. Keri represented Great Britain in numerous international events as well as the World Championships in 1990. He was the first gymnast in Western Europe to successfully complete the triple back somersault in competition.
As a coach Keri has tutored numerous British National Development Plan Champions, many of which went on to become Great Britain representatives. He was coach to the 2010 11-16 Age Group World Champions as well as the 2014 World Championship Senior Men's Pairs Bronze Medalists.
CAFÉ MANAGER
TRUDIE WARMAN
INTERNATIONAL GUEST COACH
SOFIA ANGELOVA
Sofi is well known for being one of the best Choreographers in the world for Acrobatic Gymnastics. She is professional in her work and produces some of the most artistic and unusual routines. She has many years experience not only in Acrobatics but also with Rhythmic and Artistic Gymnastics as well as Figure Skating. Sofi worked as Choreographer to the Bulgarian National Team from 1985-2000 and now works independently for their National Team and at CSKA Sports School in Sofia. Alongside this she works with the Bulgarian Figure Skating Team.
Sofi has worked with Spelthorne Gymnastics since 1988 and has produced many World medal winning routines.
LEVEL 4 COACH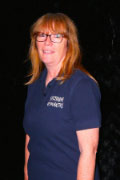 KIM BLACKLOCK
Kim is a keen, enthusiastic and committed coach with a real love for the sport of acrobatic gymnastics – she coaches NDP levels in the Spelthorne Grades Group. She is a level 4 acro coach with loads of experience from several different clubs, including her own club Trust, now run by daughter Grace. She has trained many NDP British medallists and champions, British Schools Champions and has been involved in both club and school level gymnastics for many years. She is also a National Judge.
Kim has a degree in Psychology and works full time, as a teacher, in a local Primary School. She is known for her nurturing role in the gym, having been 'second mum' to many gymnasts over the years. Her own daughter Grace Blacklock, was a senior GB representative for 6 years, achieving a World Silver medal in 2010. She has had the privilege of working alongside many brilliant coaches over the years and is thrilled to be part of the Spelthorne coaching team.
LEVEL 3 COACH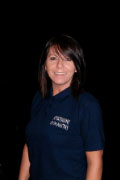 KERI BURGESS
Keri trained as an artistic gymnast for 10 years before she got married and had 5 children. She is a Level 3 Pre-School Coach, a Level 2 General Coach and a Level 1 Artistic Coach. Keri has tremendous patience and enjoys working with children of all ages especially teaching the Pre-School Classes. She also is in charge of all the Intermediate and Pre-Advanced classes for those children with a little more talent, and generally runs the holiday camps.
LEVEL 2 COACH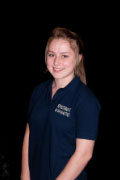 HAYLEY COWLER
Hayley has been coaching at Spelthorne for over 4 years and helps with the general classes, mini squads, prep acro and grades group. She was an extremely able acrobatic gymnast and has only recently stopped training. She has also recently completed her level 2 coaching qualification in Acrobatic Gymnastics.
LEVEL 1 COACHES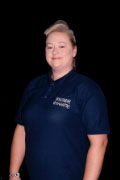 LISHA EDGHILL
Lisha has recently passed her level 1 coaching qualification in Acrobatic Gymnastics. She is a very keen and reliable member of the staff. She will be taking her level 2 course later this year.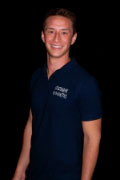 TOM BEAUCHAMP
Tom trained as a gymnast and trampolinist for over 10 years before he started coaching at 16 years old. He has coached at multiple clubs in Surrey as well as working at the International Gymnastics Camp, USA. Tom is a level 1 BG coach and also has additional qualifications in gymnastics coaching that he earned whilst working in America.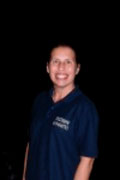 BECCY WEST
Beccy discovered gymnastics 2 years ago when her daughters joined an artistic club. Her youngest then moved to acrobatics at Spelthorne a year ago and she continued to coach at both clubs. She has recently passed her level 1 artistic coaching course.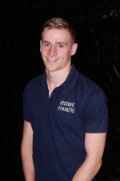 CONOR SAWENKO
Conor coaches our acro preparation group and has a level 1 coaching qualification in acrobatics. He is currently training as part of the senior men's four with partners Charlie, Lewis and Adam. Together they won the World Age Group championships in 2012 and 2014, and European titles in 2013 and 2015. They also won bronze at their first senior World championships in 2016 in China.