We run Holiday camps over selected School breaks, for Primary School aged children. Camps cost £30 per day and run from 9.30am – 3pm.
Dates: 7th, 8th, 9th, 14th, 15th & 16th April 2020
Drop off at the main reception from 9.15am
Please come dressed appropriately for physical activity.
Bring a packed lunch (nut free) and a water bottle.
Watch the video below to see what your child can get up to.
To book your holiday club sessions
1. Click link Membership account and log in. If you don't have an account please register here
2. Then click on Membership Account button



3. Then click on Book Holiday Camp button



4. Click on 'Book' to reserve session(s)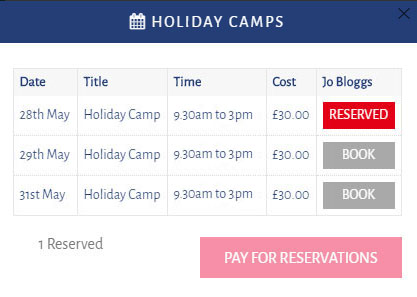 5. Pay for 'Reservations' to confirm booking
Please note: Payment is required immediately.