So "Gymnast of the month for May" spoke about the success of two of our gymnasts who achieved a silver medal at National Finals, but there were plenty other superstars too.
After what seemed like a long wait since qualifiers, our team of 12 Spelthorne Acrobats headed to Stoke last month to try and better their titles of Regional Champions to become National Champions. For most it was their first time competing in a National Final, so a huge competition for them. Regional qualifiers always presents tough categories with high volumes of entries on a very consistent level. But to battle through that and to reach National finals meant the competition would only become more tough.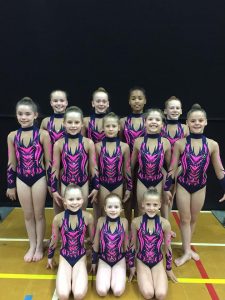 Day one was the turn of Thea and Keira, who competed a clean routine and saw them secure 4th position, a great result for these two, they were against very tough competition. Grade one always presents very consistent and close competition. But they did Spelthorne proud with their polished performance.
Day two saw the remaining 10 gymnasts try and gain a podium position. A mix of trios and pairs and also the battle of the Exon sisters.
Our women's trio of Isabel, Emma and Aimee just missed out on a podium position and finished 5th, they performed a solid routine but unfortunately it was not enough this time.
Gemma, Lucy and Amy-Jules another women's trio also performed a solid and beautifully clean routine which impressed the judges, gaining them the silver medal- well done girls, great result!
The luck continued with our women's pair…Amber and Natasha finished 3rd in their tough category and Ruby and Amy 2nd. Amazing results from all of our gymnasts, beautiful and confident routines competed in some very experienced company. Results to make Spelthorne very proud.


Hopefully the determination and eagerness to do well will continue, as it is only a few weeks until club champs- where preparation is already under way.




Once again a huge congratulations to our 12 Spelthorne Acrobats who shone on the floor, not only in their new sparkly club leotards but with their skill and confident performances.
xoxo