In March this year, tumblers from our prep to elite squads competed in the Regional Qualifiers. An annual event that takes place in a few stages, meaning not only do they have to bring their A-Game once, but multiple times.. qualifiers and then the main event finals.
March was the Regional Qualifiers, where we over-performed in our categories. Many titles, personal bests and confidence boosting tumbling passes from all of our gymnasts. The success in March meant we had to do it all over again in the Regional Team Finals. Our coaches and gymnasts travelled to Birmingham ready for a weekend of training and competition, hoping for more success in this event to take them one step further, Regional Finals.
A few months have passed since the qualifying rounds, giving our gymnasts time to improve further on technique, learn from any errors and to be ready for an even higher level of competition.  From the NDP levels to FIG levels, our gymnasts faced competitive rounds, it wasn't going to be easy for any of them. Most categories had over 20 gymnasts and knowing already, that each of those gymnasts had already won in their region, meant the taking could have been for anyone (we were crossing our fingers it would be our Spelthorne teams of course!).
Over the weekend of competition we had 5 tumblers qualify for the Regional Finals and also a bronze medal achieved by Charlotte Kenna in her category, FIG Development 15-16. A great achievement for this growing team of tumblers.
FIG Level results:
3rd Charlotte Kenna FIG Development 15-16 –  qualified for finals
4th Arwenna Harvey FIG Development 11-12 –  qualified for finals
NDP Level results:
5th Harriet Wender NDP 1 9-10 years – qualified for finals
5th Minnie Taylor NDP 2 9-10 years – qualified for finals
7th Keira Day NDP 3 11-12 years – qualified for finals
11th Caitlyn Rowe NDP 1 9-10 years
17th Ella Searle NDP 3 11-12 years
12th Maddie  NDP 3 15+ years
17th Polina  NDP 2 11-12 years
Bring on July and the final round for these gymnasts. A great result had by all, room for improvement, development and plenty more training sessions to prepare these gymnasts for their next competition.
xoxo






Tumbling Spring Events
Alongside all of the Regional tumbling action there was more to come! Another competition for our FIG gymnasts. A competition that takes part in two Spring Events. The Spring Event not only is a competition to excel in each category but is about finding the top 16 male and female tumblers in each of the age categories. Success in the Spring Events means our tumblers could qualify for the British Championships. So keeping calm and performing clean tumbling passes is essential!
In May, of our tumbling coaches and tumbling team competed in the first Spring Series across 6 age groups.
Age Groups
9-10 years
11-12 years
13-14 years
15-16 years
17-21 year and
Senior level.
     So how does the event work?
Gymnasts perform 2 optional tumbles at each event and the two scores are added together. Their best total score from either event is the one used for their final ranking position.
Gymnasts must perform tumbles that meet the minimum difficulty standards for their particular age group & they must also score over a set amount of points to qualify for the British Championships.
AND FYI ****These minimum standards have been increased dramatically this year, so it's tougher than ever to get to the British Championships**** 

:-O ….. Not only that,

s

ome of the categories had over 45 gymnasts competing for just 16 places!
The Spring Events are also being used to select the team that will represent Great Britain at the World Championships in Tokyo this December
So how did our tumblers get on in the first Spring Event?
Corrado D'orsa – member of the 9-12 years National Squad
Corrado performed relatively easy tumbles (for him), to ensure qualification at the first event.
Finishing in 4th place and with that result, almost certain to qualify.
Sebastian Freire – member of the 9-12 years National Squad
Unfortunately Sebastian put his hands down on the first tumble, but bounced back and landed his second and more difficult run to finish in a still good 6th place. Fingers crossed for qualifying next time around.
Callie Davies – member of the Southern Pathway Squad
It was her first time competing two double somersaults in a big competition. Callie had a costly error on her first tumble but managed to remain focused and complete the second pass successfully.
22nd place
Alistair Nightingale
Alistair performed a nice controlled second tumble but again had a mistake on his first run, pushing him down in the standings.
16th place
Demi performed well in a tough category with a lot of room still too improve, we are sure she do well in the next event.
15-16 girls
Amalia Green
It was Amalia's first National level competition representing Spelthorne. Recently suffered an injury to her hand which limited her training but she controlled her nerves and finished in an excellent 7th place in a very strong age group.
17-21 Men
Oliver Coombs
Ollie has struggled in the past to perform to his best in competition, but this time the countless number of repetitions he has done in the gym, paid off and he finished off the weekend in a fantastic 8th place.
A great first Spring Series, leaving us eager to return for part 2 in Sheffield, a final attempt to leap up the leader board and make those tumbling passes count.
As mentioned,  the gymnasts performed well in the first Spring Event, however not without error, so were ready to bounce back and up their game. After all it was their last ditch attempt at Qualifying for the British.
There were some much improved performances over the weekend, improving on rankings after the first Spring Event.
Results from Spring Event 2
Amalia Green moved up from 7th to 1st place, Amelia also was daring enough to perform a new tumble… which obviously paid off! 
?
?
Corrado D'orsa stayed in 4th place but was up 2.8 marks, so an improved 4th place score and two much cleaner tumble passes. 
?
Callie Davies improved by 3.1 marks shooting her up to 7th place from 20th – Fantastic as there were over 40 girls in her category!
?
Alistair Nightingale also made gains, 2.7 marks improvement up from 16th to 11th place 
??
Demi Leigh Hodgkin bounced up from 25th to 17th place, not only that Demi also improved her score by 6.5 marks! 

??



Sebastian Freire unfortunately was knocked to 18th place, but is not letting his growth injury get the better of him. Luckily qualifier for the British final so a chance to improve and get better 

?‍♀️
Elite Tumbler Amalia Green
won
the women's 15-16 age category at the British Qualifiers, a fantastic achievement for Amalia and also for the team, it was Spelthorne's first ever winner at this level of competition.
A huge congratulations to Amalia and to all of the tumblers who competed in the Spring Events. Our young team are Spelthorne's future of tumbling. Already showing huge improvement over the past few years, but by no means at their limits yet. With so much more to learn we cannot wait to watch them grow!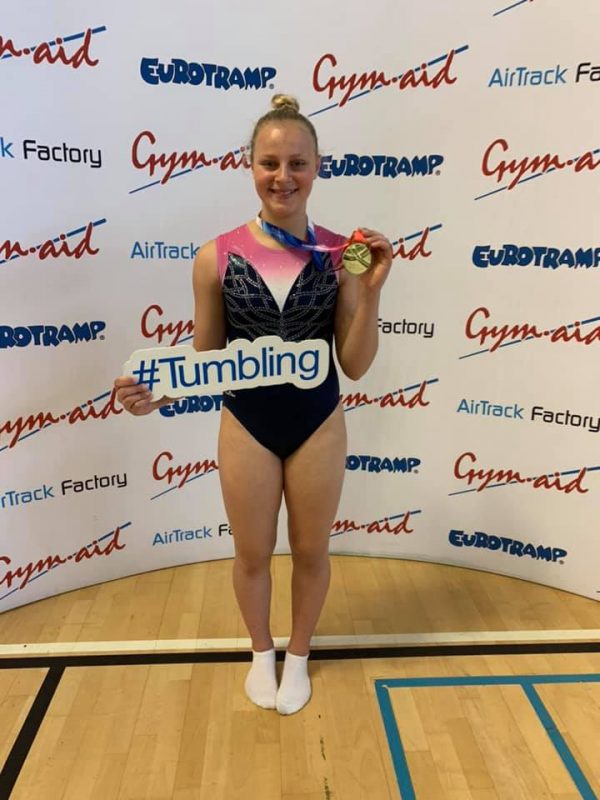 xoxo