We always like to welcome new members to join our Spelthorne family… and in the past year since moving to Sunbury we have welcomed many new faces. Our number of gymnasts has grown dramatically, but we have welcomed new staff too.
August is no different, another exciting month for us, we are very happy to welcome two very special people to the Spelthorne family. Two people who we thought deserved a proper introduction. Both have been involved in gymnastics for over 20 years, both training and competing as gymnasts and then transitioning to coaches. They have not only had success competing on the world stage but also going on to produce world class tumblers themselves. We are very lucky to have Kath and Rob join our team of Head coaches and to be appointed Spelthorne's Tumbling Managers.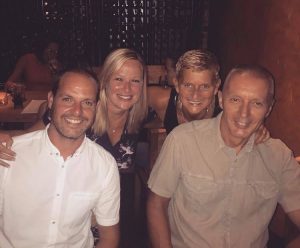 Getting to know the coaches:
Rob started gymnastics aged 10, relatively late, especially as Rob begun his career in Acrobatics as a Men's Pair top, before switching to tumbling aged 15.  However, this did not impact on his achievements, European and World titles to name a few…
Individual Senior European Champion
Individual World Bronze Medallist
World Games Bronze Medallist
World Team Champion
World Cup Medallist
5-time Senior British Champion
Kath begun her gymnastics career at the young age of 5. Again, not starting out as a tumbler but an artistic gymnast before switching to tumbling aged 14 and also going on to triumph on the world stage.
Individual Senior World Champion
Individual Senior European Champion
World Games Silver Medallist
World Cup Champion
World Team Champion
7 times British Champion
Spelthorne is full of talented coaches and gymnasts so to appoint two more would only seem fitting. Kath and Rob have dedicated their lives to gymnastics and have been recognised by British Gymnastics for this. Rob is the Head National Coach for Tumbling. So alongside coaching at Spelthorne Rob will also be responsible for the selection and preparation of the Great Britain Senior National Tumbling Team. Rob also helps to coordinate all National coaching staff and Pathway coaches.
Kath, who has been coaching for over 12 years, also pursues roles alongside those at Spelthorne. She is the Assistant Junior National Coach. So with others, helps selects the Junior National Team & oversees gymnasts at all training camps and major international competitions.
Kath and Rob are both personal coaches of Heather Cowell who was World Age Group Champion, they have also coached several other World Age Group Medallists including Georgie Forbes, who is the current Age Group British Champion and two-time World Age Group Medallist and will now be training at Spelthorne. We are very excited to have them join us and to make use of our fantastic tumbling facility. With their archive of success who knows where our tumbling will go in the future? Soon to be producing more international champions we hope!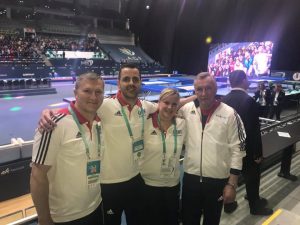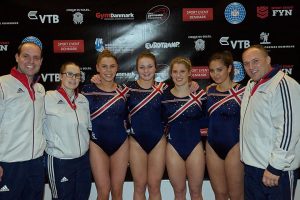 So once again, welcome to the family… we look forward to sharing a new phase in your careers with you both, and to you taking Spelthorne on a new leg of its tumbling journey!
xoxo