Children's Gym Parties (Self-Catering)
Suitable for children up to the age of 9 years, our very popular children's parties give your guests 1 hour's exclusive use of the gym with pit and wide variety of play apparatus, supervised by our staff (though additional parent supervision is required).
PARTY TIMES
Sunday
[P1] – 11:30 – 12:30
[P2] – 13:00 – 14:00
[P3] – 14:30 – 15:30
[P4] – 16:00 – 17:00
Party prices- £125 per party (£115 for members) for up to 25 children & 5 adults (Covid-19 regulations limit people to 30 at the moment).  You should also comply with current Covid-19 guidelines when inviting guests.
N.B. to get the reduced members' rate the party must be for a current BG member who has paid fees for the current term.
Terms and Conditions
To read the Terms and Conditions for party bookings please click here.
To book your party
1. Click link Membership account and log in. If you don't have an account please register here
2. Then click on Membership Account button



3. Then click on Party Booking button



4. Click on 'Book' to reserve party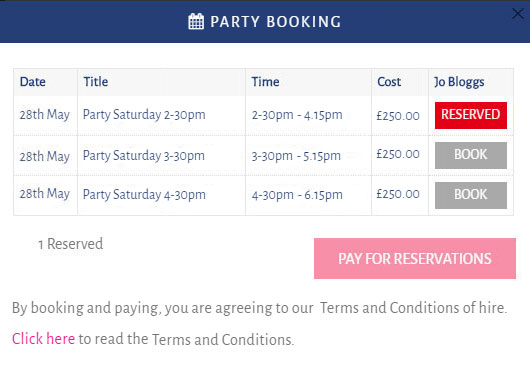 5. Pay for 'Reservations' to confirm party booking
Please note: Payment is required immediately.