Time to take a break from acrobatics and celebrate our tumbling success. Our Tumbling team train hours every week to gain recognition and success just like our acrobats. Our team start with the small and mighty to our more experienced gymnasts.
All of whom have been competing recently. With competitions in Sheffield and Southampton it is hard to keep up with all of the action- hence why we are here to fill you in!!
So let's start with Sheffield and the English Tumbling Championships, (which took place 14th October). Our two high flyers Ollie C and Ollie B were back in action in the 17-21 age group, ready to tumble their way to more success.
Qualification rounds saw the boys storm the competition. Fast, dynamic and clean tumble passes earned them both places in the final. Ollie Baines finishing overall 5th and Ollie Coombs 8th. Finals didn't go quite to plan for Ollie Coombs, an error saw him lose his chance of a medal. Unfortunately mistakes can happen no matter how often they are trained in the gym. Nevertheless we are very proud of both boys with how far they have come and their talent yet to be discovered!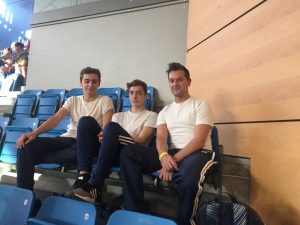 Now Southampton and the Mike Walker invitational which took place 21-22 October, showcasing our NDP and FIG tumblers.
Day one saw our first scoop of medals, with a gold silver and bronze! Good job guys a great start to the competition
Kenna – Gold
Nathaniel – Silver
Martha – Bronze
Success continued on day two also. Starting with our higher level NDP gymnasts and finishing with our FIG competitors.
The morning rounds saw some of our girls compete their tumble passes, clean and neat tumbling from them saw our medal haul increase!
Ella S – Gold
Madi – Silver
Holly – Bronze
Grace – Bronze
The afternoon competition saw the remainder of our gymnasts competing. For the majority of them, they were competing new and more challenging tumbles. So a great achievement to come home with more medals!
Charlotte – Gold
Tom – Gold
Ella G –Silver
Keira –Bronze
And a battle between our two FIG boys saw Ollie Coombs clinch Gold and Ollie Baines a Silver medal!!
I think the success and positivity was skipping between the continent, with Poland and the UK sharing the success of our gymnasts, 13 medals were achieved in Sheffield, congratulations to you all!! A great stage to practice, gain confidence and experience the competition circuit, something which can only aid them as they mature into more technical tumbles.
We are definitely looking forward to seeing them on the new track in the Christmas displays now, are you?
xoxo