A team of Spelthorne's finest have spent the previous two weekends in Poland, No not on holiday- they don't have time for that! Instead competing in the European Championships. I am sure we are happy they were there competing and not on holiday too, as we would not have come home with all of those shiny medals and achievements!
The first week of competition was kicked off with the age group competitors.
⦁     Sasha and Poppy  (Gold Medallists)
⦁    Andrew and Archie (Silver Medallists)
⦁    Bradley, Jack, Jake and Harry (Bronze Medallists)
⦁    Max, Dan, Jacob and Cameron (Bronze Medallists)
⦁    Frazer and Finlay (Silver Medallists)





All of whom excelled on the floor, showing off their talent, clean routines and jazzy leotards- not just to impressed Spelthorne and team GB but all of Europe!  Medals were taken home by all gymnasts, so we really could not have asked for a better competition. They set the week of nicely for the Junior and Senior competitors the following week.





Following on from the age group competition was the junior and senior competition. In this category we had two further partnerships competing:
⦁    Rhys and Mollie
⦁    Lewis, Connor, Charlie and Adam.
The competition started off strong, Rhys and Mollie competing first with their balance routine, which qualified for the balance final in 4th position and the boys competing their tempo routine, which obviously wowed as they qualified in 1st for the tempo final!
Qualification round two was kicked off again with Rhys and Mollie and their tempo routine, another fab performance which qualified them for the tempo final in 3rd place, and an overall 4th place ahead of the combined final.
Meanwhile the boys qualified in 2nd place ahead of the balance final, and 1st place ahead of the combined final! All for still to play for and potential medals close enough to touch!
Finals day saw mature and confident routines performed by both partnerships leaving Poland and the European competition with results to be proud of!
Combined final:
⦁    Rhys and Mollie 4th place
⦁    Lewis, Connor, Charlie and Adam 2nd place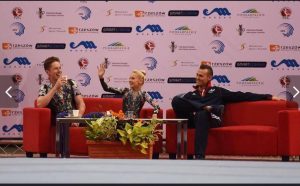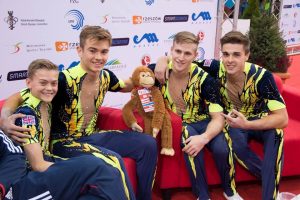 Such an incredible competition for all: the gymnasts, parents, coaches and supporters, all favouring the success of these young athletes. They are always performing to their best ability and giving us and in this case Europe, results to be proud of! Well done to all of you! 🙂 We look forward to what you and the coaches come up with next- I am sure Ellie our choreographer will have the audience captivated with more stunning routines.
Talking about routines, were you watching the live link we shared?? If not don't worry below are the routines performed by the gymnasts, so you can watch them over and over again! 🙂
(HINT: Click the playlist button in the top left corner to select the routines from our gymnasts)
xoxo