It is March, although this weather may not agree? Despite all the snow our gymnasts made it to Maia, just about!
Maia Acro Cup is one of our favourite internationals of the year, we love it because we can send a variety of our squads – from grades to elite. A nice atmosphere for the younger gymnasts to travel with their role models and to be on the same competition stage. This year we sent 38 gymnasts along with their coaches and supporters to compete!
So why Maia? Maia is a great practice stage, gymnasts from all over Europe and further come to compete routines from youth to senior level. This year gymnasts travelled from as far and wide as Europe to Canada! Attending competitions such as Maia gives us a feel for the talent across Europe, and on occasions the world stage. Having the chance to compete against gymnasts from clubs other than the UK is a bonus for our gymnasts, never letting them get comfortable and complacent. A new challenge and healthy competition for them.
With Maia being at the beginning of the year it means we have time to get ahead, see what can be improved for the year but most importantly it's a chance to have fun! Maia is a fun competition, feeling quite laid back and relaxed with all gymnasts supporting each other and becoming friendly, no matter on the club or country- true sportsmanship! Of course when it is finally time to compete on the floor, the fun turns into a mixture of emotions .. nerves, panic and determination to do well. But something our gymnasts are used to and transition well with.
So who were our Maia stars of 2018?
Here are our mighty 38: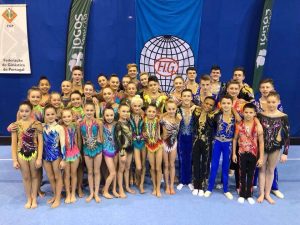 Gymnasts from youth to age group categories, took to the floor and dominated!  For some their first international and for others just another day at the office. As always, Spelthorne showed off, bagging the medals and strutting their stuff in their stunning glitzy leotards, a perfection accompaniment to the sassy routines.
Finals started off with a bang, gymnasts in our youth category bagging medals and the overall team gold!
Ella and Carmen Bronze
Evy, Lauren & Lily 4th
Kiera, Rosie & Lexie 5th
The 11-16's then took up the challenge, bagging more medals and first and second place for the team competition.
Andrew & Archie Gold
Jolie, Ellie & Zemirah Silver
Abbey & Hannah Bronze
Sasha & Poppy Gold
Ethan & Ruby Gold
Bradley, Jake, Jack & Harry Gold
But things did not stop there success continued with our 12-18 partnerships and 13-19 partnerships. And another team gold from the 12-18's.
Zoe & Fran Gold
Saskia, Katie & Mollie Bronze
Max, Dan, Jacob & Cameron Gold
Frazer & Finlay Gold
Jack & Sophie Silver
Not only were gymnasts travelling to Maia to compete in the Acro Cup, but at the same time we also had the World Cup happening. Senior level gymnasts competing for the World Cup title. For us it was our newly named partnership of Charlie and Adam. Previously a Senior Men's four now competing as a Senior Men's Pair. We had all faith, they would do well. A very tough group saw them finish 7th, a huge achievement for their first competition together. Up against experienced partnerships but still looking as confident and polished as ever, we know they will continue to succeed and grow as a partnership – so watch this space!
Overall a truly successful competition, plenty of international titles and results to be proud of, well done everyone, doing Spelthorne proud as always!
Keep your eyes peeled this week for photos from the event 😉
xoxo