For December we thought we would mix it up a little, after such a successful year we found it was too difficult to choose one gymnast to highlight for December. Therefore we decided to recognise the achievements of multiple gymnasts, those who all won awards at the recent Christmas Displays.
Our Christmas displays always seem a fitting occasion to recognise the achievements of our gymnasts. This year gymnasts from general gymnastic classes through to elite received award for many different reasons.
The categories for the awards were as followed, and with so many gymnasts and classes it was a very hard decision for the coaches.. we are proud of each and every single gymnast, award or no award.
Advance Group, Prep Group, Club Grades, Junior Grades, Elite Group
Mini Squad, Junior Grades, Elite Group, Tumbler
And two special awards for "Special Achievements".
Hardest Worker, Advanced Group: Madi Hinton
"This gymnast has been at the club for little over a year, during which time she has shown herself to be very driven, constantly pushing herself to improve and perform more complex skills. She has recently placed 2nd at the Mike Walker Invitational tumbling competition and we are hoping for more success in the coming year. Her coaches have said she constantly works hard and is extremely polite, and as such is a great role model for the rest of her group. The award for the hardest working gymnast in the advanced group goes to Madi Hinton".
Prep Group, Hardest Worker: Imogen Maddocks
"This gymnast never misses any sessions, works extremely hard in everything she does. Always wants to learn more. She always listens intently to the coaches, and is a great role model for the other gymnasts in the group. The coaches are all in agreement that the Hardest Worker Award should go to Imogen Maddocks".
Club Grades, Hardest Worker: Harry Norman
"This particular gymnast has improved incredibly over the last 6 months. He's had his mind set on being an acrobatic gymnast. He was originally selected into our preparation squad and as soon as he started he never missed a session, he always worked his hardest and started to show signs of what an excellent gymnast he could be. He's now in our Club Grade group and is continuing to try his best and always listening to whatever we ask of him. He is a pleasure to teach. The hardest worker award goes to Harry Norman".
Junior Grades, Hardest Worker: Ruby Bray
"This gymnast has been in the Grades group now for nearly 4 years. She has always shown great commitment, great attitude, and great eagerness to learn. She is the perfect role model to her fellow gymnasts and to her top. She is improving every week, and all the coaches are in agreement, that the Hardest Worker award should go to Ruby Bray".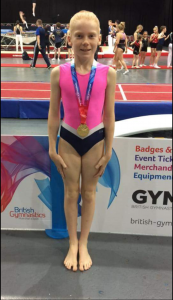 Elite Group, Hardest Worker: Zoe Schubert & Francesca Turner
"Having only been partnered together in the summer, these girls have worked extremely hard to get themselves ready for their first competition in November where they gained a gold medal. They have a fantastic attitude towards training and are always striving to improve. They are extremely focused, and it is this asset that helped them prepare so quickly for their first national event. They are a fantastic example for the younger gymnasts. The hardest working and best approach award goes to Zoe and Francesca".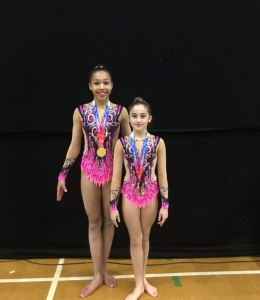 Mini Squad, Most Improved: Joshua Wilcock
"This gymnast has been with the minis now for just under two years. With a slow start, and an unfortunate break of his arm, he came into the Advanced Minis a little later than the other boys his age. However, he did not let this affect him and since moving to the Advanced Minis he has improved significantly and rarely misses a session. He has great listening skills, always eager to please and always ready to learn new things. The coaches are very proud to give the Most Improved Award to Joshua Wilcock".
Junior Grades, Most Improved: Josh Lee
"This gymnast never misses a session, is eager to work at all times and the coaches feel in the last few months he has grown up massively in his attitude towards training, not only working on improving his own skills, but working hard in his partnership which is showing real promise. The Most Improved gymnast from the Junior Grades goes to Josh Lee".
Elite Group, Most Improved: Bradley Gold, Jack Clegg, Jake Turner, Harry Watson
"These four young men have improved tremendously over the past year. (Having been reformed as a group in October 2016) They have demonstrated this through their approach to training and determination to improve their scores – competition upon competition. This year receiving a Bronze Medal at the European Championships significantly better than their performance target for the year. They are a pleasure to work with and are always striving to improve".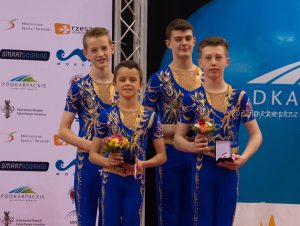 Tumbling Group, Most Improved: Charlotte Kenna
"This gymnast has been working consistently well for the last year and always shows up for sessions with a great attitude. She has been learning some new skills and always works hard on the preparation skills and in addition is a role model for the younger members of the group. She will do very well next year if she continues to work hard. The award for Most Improved goes to Charlotte Kenna".
Elite Group, Special Achievement Award: Sasha Carpenter & Poppy Yates
"These girls started the year by winning the 11-16 title at the Portugal International Acro Cup. Their ambition however was to make the Great Britain Team in 2017. Having convincingly won the GB trials and British Championship this secured their place in the GB 11-16 team for the European Championships in Poland. There were unbeatable throughout the European Championships held in October with three great routines, winning them the 2017 European 11-16 Age Group Women's Pairs Title. The Special Achievement Award goes to, the two and only.. Sasha and Poppy".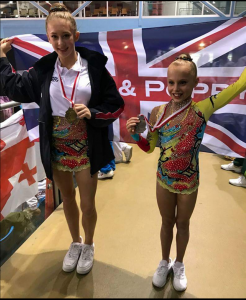 And finally, the overall award to round off a great career, was the "Special Achievement Award to our Senior Men's Four. Lewis Watts, Conor Sawenko, Charlie Tate, Adam Upcott.
"These four gymnasts are arguably the best men's four ever produced in Great Britain evidenced by their longevity and history of fabulous results:
2011: 11-16 age category, World Champions.
2013 and 2014: 12-18 Age Group, World and European Champions.
2015: 13-19 Age Group, European Champions.
2016: Senior World Bronze medallists.
2017: Senior World Games, Gold medallists and European Silver medallists.
These gymnasts are not only fantastic performers in their own right, but also fantastic role models for all of Spelthorne's younger gymnasts. The award goes to the one and only Lewis, Conor, Charlie and Adam".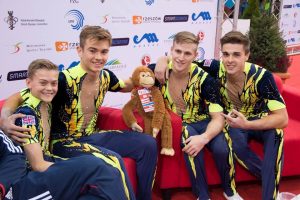 Congratulations to all of you, well deserved winners for not only gymnast of the month but for your induvial achievements in your gymnastic careers.
xoxo