A look back at what has been a fab 2017!
There were so many highlights of 2017, competition results, the grand opening of the new gym, the welcoming of new gymnasts and staff and the continued success and expansion of the gym.
It takes a lot of people and a lot of time to achieve the results that we have, not only from the obvious; the coaches and gymnasts, but the wider support teams we have. Parents, friends, family, fundraisers, our local community and organisations. All the effort and time given from these bodies has made 2017 great and we are lucky to have the support from you all.
So where do we start? 2017 has played host to a number of competitions, from friendly and regional competitions to national and international competitions. Gymnasts not only from elite, but also from our general classes and preparational squads have attended the various competitions and the results have been phenomenal. Not just the results in terms of medals, but the growth in confidence and performance from all gymnasts is lovely to see.
This year Spelthorne gymnasts have added to our roll of honour, building on the success of the club. British, European and World titles among some .. all in a day's work for these guys! And the success has not gone unnoticed. Spelthorne have caught the eye of many from the BBC and British Gymnastics alike this year.. being featured numerous times on BBC News- with the opening of the new gym and with the lead up to Europeans. British gymnastics also recognising the success and talent of our elite squads, featuring them on the BG Facebook page and website. Furthermore, gifting our Senior Men's Four with "Outstanding Athlete of the Year Award". A great accolade to top of their career.
Alongside competitions, events held inside and outside the gym such as: family nights, fundays, fundraisers, displays and Halloween and Christmas parties are also important to recognise. Bringing together gymnasts, staff, friends, and family to celebrate a shared interest, a family feeling that unites the club and helps the club to keep growing.  A friendly bond between all makes Spelthorne a very happy place to be, and it has shown, with growing numbers and feedback of what a lovely atmosphere the gym creates. Something we are very proud of.
With so much to look back on, we thought we would do a little throwback for you, here are our highlights for 2017. Photos, Videos and Links to all the received coverage!
Spelthorne on the BBC
For those who didn't catch the BBC Breakfast item on Spelthorne Gymnastics….. ?

Posted by Andre NoRin-Brown on Sunday, 30 July 2017
The ultimate gymnastics team ?‍♀️?‍♂️?‍♀️

Posted by BBC London on Sunday, 15 October 2017
Spelthorne in the news
https://www.highsheriffofsurrey.com/single-post/2017/08/17/Gym-Jewell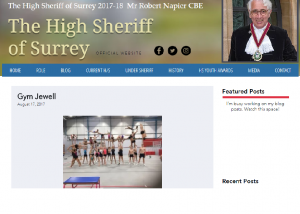 Spelthorne featuring on British Gymnastics
https://www.british-gymnastics.org/news-and-events/news/latest-news/7322-new-facility-helps-spelthorne-reach-new-heights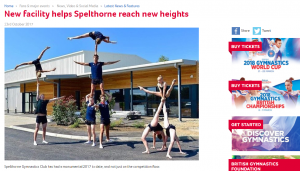 https://www.british-gymnastics.org/news-and-events/news/latest-news/7320-2017-national-awards-outstanding-elite-gymnasts-and-coaches-recognised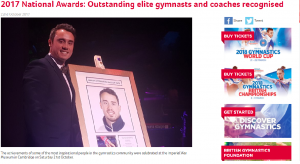 British Gymnastics Facebook shares
April:
Huge good luck to Adam Upcott, Conor Sawenko, Lewis Watts & Charlie Tate who head off to Belgium today for the #Acrobatic #Gymnastics World Cup! Here's a throwback to their incredible routine at the 2015 Championship Series! Don't miss the 2017 event: http://bit.ly/2jlwjqM

Posted by British Gymnastics on Wednesday, 5 April 2017
June:
Amazing top tips from an amazing GB acrobatic gymnast! Check out Spelthorne Gym acrobatic gymnast Adam's guide to producing the perfect handstand ready for #HandstandDay this Saturday! BBC Get Inspired FIG UEG

Posted by British Gymnastics on Tuesday, 20 June 2017
What day is it? #HandstandDay ! ? Share to tell the ? and let's see as many upside down #HandstandDay posts as we can ??‍♂️ BBC Sport

Posted by British Gymnastics on Saturday, 24 June 2017
July:
Spelthorne's men's group and World Games Champions performing their balance routine at the #2017British Gymnastics Championship Series at Echo Arena Liverpool #gymnastics

Posted by British Gymnastics on Saturday, 29 July 2017
August:
Now THIS is a performance! #AcrobaticGymnastics #TuesdayMotivation #TurnUptheVolume

Posted by British Gymnastics on Tuesday, 8 August 2017
September:
There was HUGE demand after our last video to see more of this incredible mixed pair from Spelthorne – Mollie Jaggers and Rhys Cowler! So here's another dramatic routine from the 2017 Championship Series! #AcrobaticGymnastics

Posted by British Gymnastics on Friday, 8 September 2017
December:
Christmas Countdown day 4 – acro men's 4

We've got a real treat for you on day four of our #ChristmasCountdown? from Spelthorne's acrobatic men's four! They are the current World Games champions and European silver medallists! This routine is taken from earlier this year when they were in action at Echo Arena Liverpool, where they became British champions.

Posted by British Gymnastics on Monday, 4 December 2017
2017 in Photos




























































With all of that, there is only one last thing to say, we wish you all a very happy and healthy new year and are looking forward to sharing 2018 and more success with you.
xoxo